Dream House
---
Stop in and experience the holidays…Dream House style!
Enjoy and explore our wonderful selection of holiday decorations for your home,
gifts both BIG and small, and unique accessories to make your home dazzle!
Open Mondays during the Holiday Season!
---
Join us for Downtown Frederick's Three Saturdays!
December 6, 13, and 20 • 3-9 pm • Click here to learn more.
Guys Night Out at Dreamhouse
December 18 • 6-9pm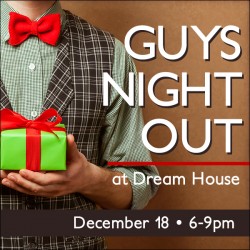 Come on, GUYS! We are making the holidays EASY, merry and bright. Plus, you get free beer and snacks.
Step 1: Your loved one should fill out a WISH LIST by coming into Dream House before December 18.
Step 2: Go to Dream House for Guys Night Out on December 18 from 6-9 pm and get snacks, beers and the Wish List gifts.
Loved Ones — create your Wish List during regular business hours before December 18 and we will make sure your guy gets it!
---