Designing My Own First Nursery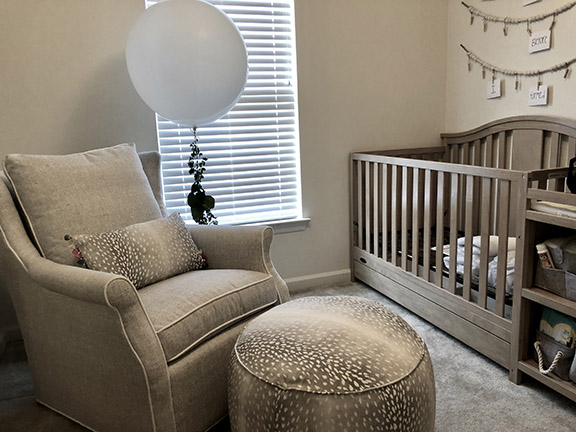 As an Interior Designer, selecting the perfect furniture for its function and pairing it with gorgeous fabrics is second nature. Yet somehow, when it comes to picking our own pieces, it feels like an impossible and indecisive burden.
I am pregnant with my first child, and as I began the hunt to find the perfect nursery chair, the struggle was real (see opening statement). Luckily, I was told by the wise women around me that the nursery chair is where I will spend a lot of time (the wisdom that was much needed, as I was about to forgo a chair that rocked). With one requirement in mind (and two amazing furniture lines to choose from) my journey began.
Narrowing down the options based on style brought two options to the forefront. The Cumulus Air Chair and the Herringer Swivel Glider. These two chairs are quite different in terms of "look" but both provide the necessary features – they swivel, rock, and are very comfortable. Both chairs also transition out of the nursery which was an important personal factor. While deciding between the two, the fabric choices became clearer – in order for the chair to match the decor it was going to have to be neutral. This allows the room to easily evolve as our family grows, and the space is rather small so a neutral chair takes up less visual space.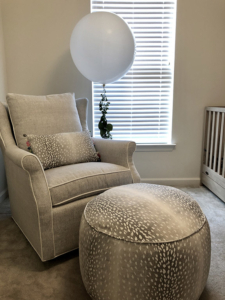 Eventually, the Herringer won out over the Cumulus for the sole reason that the Herringer sits higher. Many ups and downs would make a higher chair a better choice for this tall mama-to-be. I outfitted the chair in a light gray Sunbrella fabric – perfect for any mess a baby can make – and trimmed it with a bright white (also Sunbrella). Instead of an ottoman, a poof was a more practical option for us; it is more mobile and still provides the desired support when needed. A whimsical patterned fawn print on the poof and a lumbar pillow helps break up the solid chair and make it playful — it is a child's room after all!
After much deliberation and help from the two other talented women here at Dream House, I can happily say that I am thrilled with the final product. Now we are just eagerly awaiting the arrival of our baby boy who is due at the end of the month! I can't wait for you all to meet the newest edition to the Dream House family!
We know it's a process to find the right piece and perfect fabric, and we love helping. Whether you're a new parent-to-be looking for the perfect chair, or you have other furniture needs, let us be your resource. At Dream House, we listen to your ideas and needs, and we work until we surpass your goals.
—Mary
https://dreamhousestyle.com/wp-content/uploads/2019/07/DH-July-16-News_blog-2-1.jpg
432
576
Dream House
https://dreamhousestyle.com/wp-content/uploads/2015/04/logo.png
Dream House
2019-07-16 17:12:32
2019-07-31 12:11:24
Designing My Own First Nursery