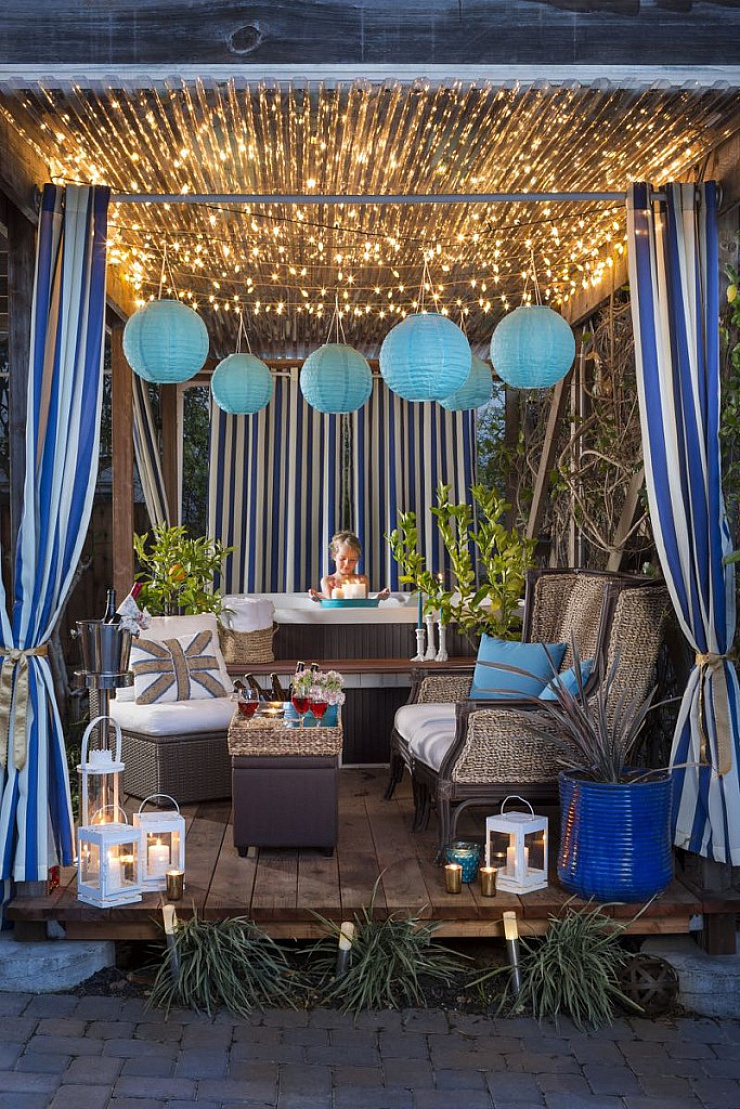 Serenity. Tranquility. Peace. All of these words come to mind when picturing the perfect outdoor oasis, and who doesn't want a space like that? For some, the backyard can be easily overlooked (and we know for others, it is considered one of the best features of your home). No matter what kind of outdoor space you have – find the beauty to behold, appreciate, and accent. The image above is a wonderful display of how to accessorize in a way that incorporates peaceful, natural items while adding comfort. These are all components for a true "oasis". From the dainty string lights that line the ceiling and other lighting accents to the use of upholstery to soften the hard surfaces and add color, inputting the right accessories truly made all the difference.
You may be experiencing some back yard envy, and who wouldn't with such a pretty setting that beckons one to sit and relax. You may be wondering: what can I do to create and enhance my own outdoor oasis? We have a few tips to help you transform your space and add that perfect charming touch.
Consider an outdoor rug. Add a pop of color on the floor, something that can drain well and resist fading. Rugs not only bring color or pattern, they also ground seating arrangements and break up the surface area. Our plastic rugs are made of recycled water bottles so they are sustainable and will not retain any water. A common concern when putting colorful rugs in direct sunlight is fading, but these rugs hold up to the blazing rays staying fade resistant and bright for years to come.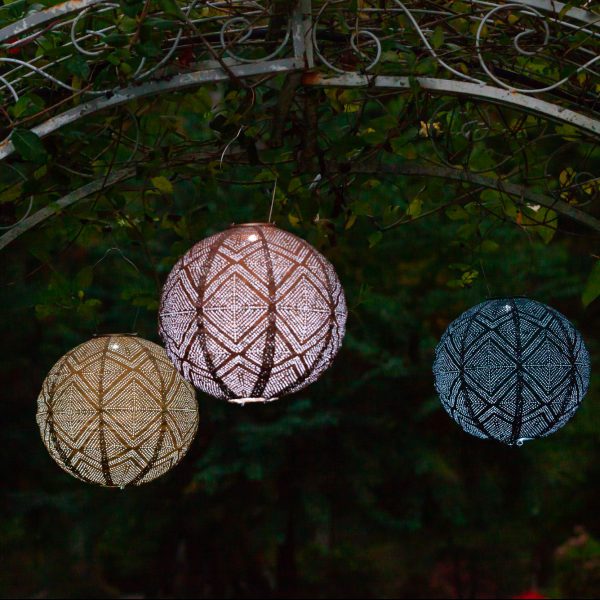 How about solar lanterns? Enjoy their color, pattern, texture, or ambiance during the day and as day gives way to night, watch as they radiate a soft glow for several hours of enjoyment. Their heavy duty material won't fade and stands up to rain and wind which means that they do great not only in the covered space shown above, but you can keep them out in the elements, tied to tree limbs, hanging from posts, or off deck railings. This is a big must-have for us at Dream House.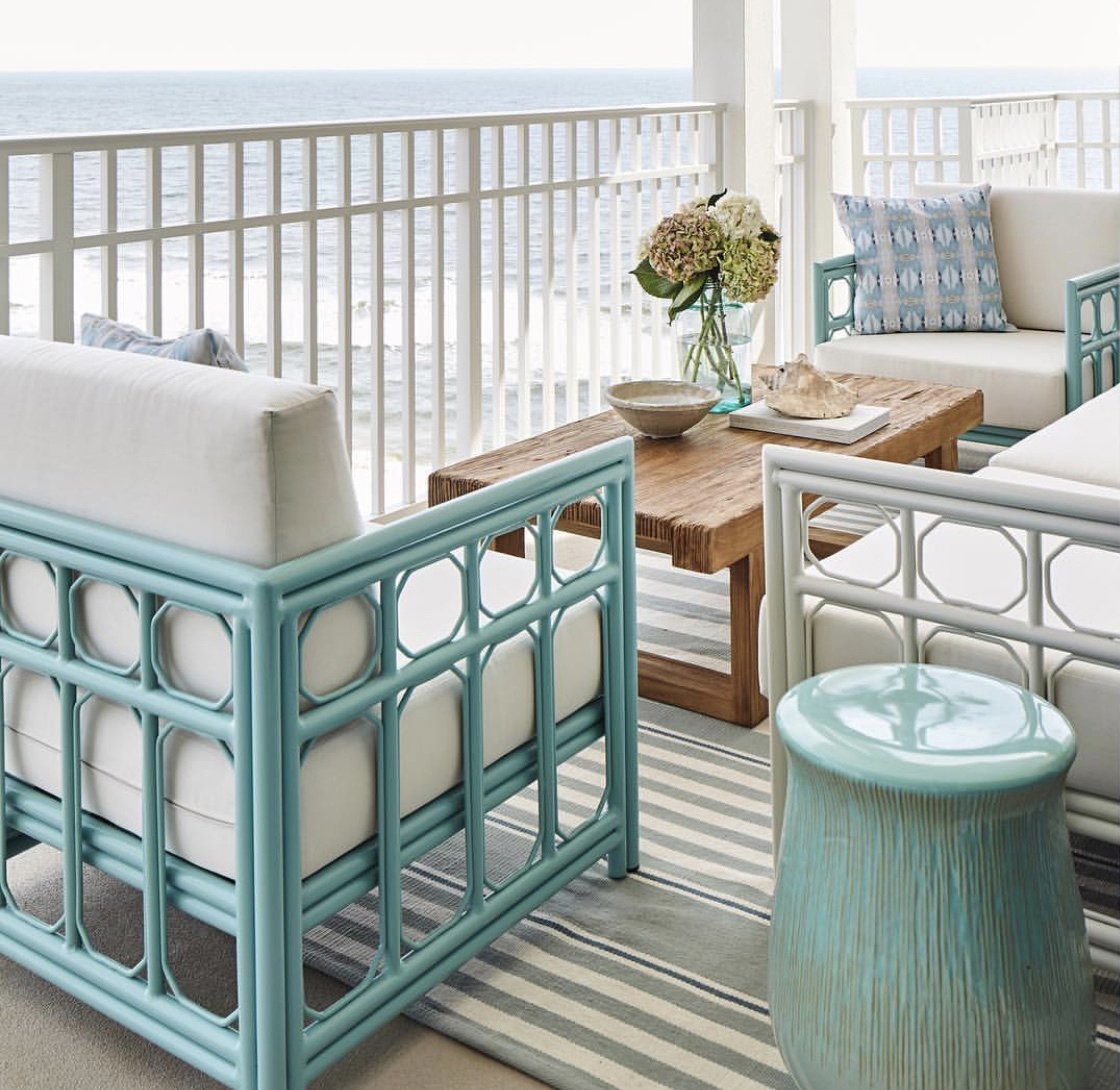 Mix it up with funky outdoor pillows. Pillows are a go-to for accessorizing inside the home but they are also an important part of an outdoor space. It's not just accent pillows that help create an outdoor oasis, furniture with cushions (especially on metal furniture) are essential for creating that softer, inviting look. Reupholstering old seat cushions in a neutral or fun print is an easy way to revive a tired looking seating area. Our wonderful upholstery lines have extensive collections of Sunbrella fabric to choose from including solids, textures, and prints big and small.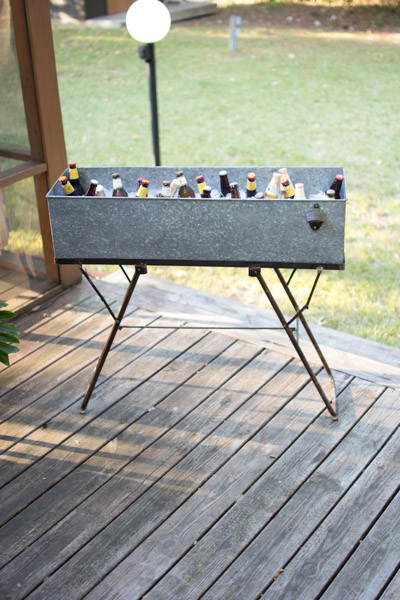 Add that galvanized decor! A great go-to for outdoors is galvanized metal. The plethora of options available makes adding a planter, tray, cake plate, drink trough, or wall art easy and fun. The earthy look and feel of galvanized metal pieces help to bring variety to typical textures and materials seen outdoors. Don't forget there's no shame in your game if you add faux succulents or florals to a galvanized planter (or any planter, really). It will look good and is low maintenance.
These touches are sure ways to make your space stand out. Have questions or need more help? We have beautiful outdoor furniture options and love working with our customers. Everyone deserves a Dream House.
https://dreamhousestyle.com/wp-content/uploads/2019/06/Elegant-Outdoor-Space-683x1024-740x1109.jpg
1109
740
Dream House
https://dreamhousestyle.com/wp-content/uploads/2015/04/logo.png
Dream House
2019-06-05 10:50:33
2019-07-16 17:06:03
Serenity. Tranquility. Peace.