Dream House Holiday Recipes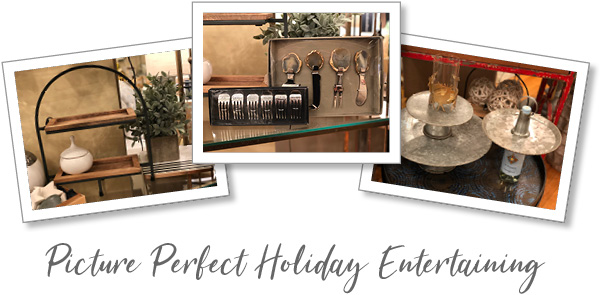 Find festive and pretty tableware at Dream House to show off all your favorite holiday treats this season. Not sure what to make? We share some of our favorite recipes below…
Cheesecake
—Miriam Rosenthal
This family recipe is always on our holiday table. Simple. Classic. Delicious.—Cassie
Ingredients

Filling
(3) 8 oz. pkg. cream cheese
(4) eggs
1/2 cup sugar
1 tsp vanilla
A squeeze of lemon juice or 1 small can crushed pineapple, drained, added at end of mixing.
Crust
1 stick butter
1 1/2 cups finely ground graham crackers or vanilla wafers
Topping
1-pint sour cream
1 tsp. vanilla
Directions
Combine all filling ingredients and beat in an electric mixer for 10-12 minutes.
Use butter to grease cheesecake pan and melt the rest to combine with ground graham crackers or vanilla wafers.
Pour mixture into a cheesecake form and pack firmly with a small bowl to make a firm crust. Add filling.
Bake at 375 degrees for 25 minutes.
(Cheesecake is ready when the center does not jiggle, but take it out before it cracks.)
Cool for 10 minutes. Combine sour cream with with 1 tsp. vanilla and spoon on top.
Bake 6 minutes at 475 degrees. Refrigerate. (Preferably made the day before serving.)
---
Ginger Short Bread
l make these delicious treats for friends and family every year and they are a huge hit! —Wendy
Ingredients
1 cup butter softened
2/3 cups sugar
2 tsp ground crystallized ginger
2 cups Flour
Mix butter, ginger, and sugar until creamy
Add flour (The dough will be crumbly.)
Press into a 9 x 12 glass pan  1/2" thick
Take a knife and score into equal bite-size pieces.
Bake at 325 for 32-35 minutes until edges are golden brown
Cut along score marks as soon as it comes out of the oven wiping knife as you go.
Cool. (Can be stored in a plastic container up to 2 weeks.)
---
Bread Arugula Salad
This dish has become a big winner for my family around the holidays, and it easily transforms into a vegetarian-friendly option. —Mary
Ingredients
8 ounces slightly stale open-crumbed, chewy, peasant-style bread (not sourdough)
6 tablespoons to 8 tablespoons mild-tasting olive oil
1 1/2 tablespoons white wine vinegar
1 pinch salt and freshly cracked black pepper
2 teaspoons pine nuts
2 to 3 garlic cloves, slivered
1/4 cup slivered scallions (about 4 scallions)
1 tablespoon dried cranberries
2 tablespoons lightly salted chicken stock or lightly salted water
3 handfuls of arugula, frisée, or red mustard greens, carefully washed and dried
Directions
Preheat the broiler.
Tear bread into irregular 2- to 3-inch chunks—you should get about 4 cups.
Toss with a tablespoon or two of olive oil, lightly coating them, and broil very briefly, just to lightly color the edges. If you'd like to toast the pine nuts (recommended) you can put them on your broiler tray as well, but watch them very carefully because they cook quickly!
Combine about 1/4 cup of the olive oil with the white wine vinegar and salt and pepper to taste.
Toss about 1/4 cup of this tart vinaigrette with the torn toasted bread in a wide salad bowl; the bread will be unevenly dressed.
Taste one of the more saturated pieces. If it is bland, add a little salt and pepper and toss again.
Heat a spoonful of the olive oil in a small skillet, add the garlic and scallions, and cook over medium-low heat, stirring constantly, until softened. Don't let them color.
Scrape into the bread and fold to combine.
Add the dried cranberries along with the pine nuts, if they were not already mixed with the bread scraps from the broiling step. Dribble the chicken stock or lightly salted water over the salad and fold again.
Taste a few pieces of bread—a fairly saturated one and a dryish one. If it is bland, add salt, pepper, and/or a few drops of vinegar, then toss well.
Add the greens, a drizzle of vinaigrette, and fold well. Taste again.
Enjoy!
https://dreamhousestyle.com/wp-content/uploads/2019/12/DH_Dec12_Collage_705x295.jpg
295
705
Dream House
https://dreamhousestyle.com/wp-content/uploads/2015/04/logo.png
Dream House
2019-12-12 21:39:54
2021-06-04 14:02:04
Dream House Holiday Recipes